ASR Project Tracking System
ASR Project Tracking System (PTS) is ASR's proprietary web-based platform for Supply Chain Management, Project Quality Managemement, Delivery Assurance, and Global Workforce Management. ASR PTS has been continually developed and improved by ASR's advanced technology team over the last 15 years to support mission critical customer requirements in a range of Government and Commercial sectors, leveraging ASR's over three decades of industry experience.
Key Benefits
Globally accessible, centralized secure Web platform improves collaboration, knowledge sharing, efficiency
Real-time, automated reporting of supply chain quality and delivery assurance metrics on desktop and mobile
Improved supply chain visibility - faster identification of nonconforming suppliers and corrective/preventative action
Cost Savings - Process streamlining, more efficient resource utilization, realtime analytics, critical supplier performance monitoring
Global Resource Management
ASR PTS provides innovative geolocation-based resource management tools that provide better Supply Chain visibility, resource sourcing, and management for a global supply chain and workforce.
Easily search for local resources based on qualifications and availability on an interactive global map
Tightly integrated with scheduling and project resource management features
Cost Savings through improved utilization, scheduling, loading of local resources
Visualization and analysis of global supply chain of critical suppliers, sub-tier suppliers, and components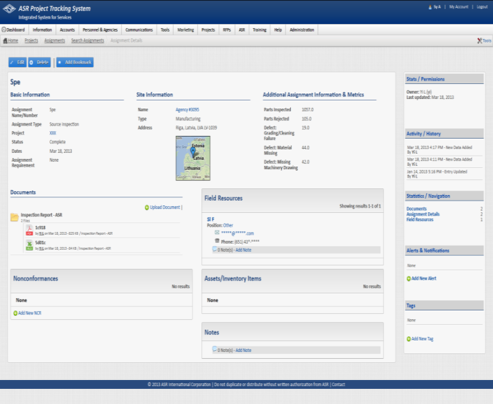 Service / Assignment Management
ASR PTS provides centralized tracking of the Supply Chain Management, QA/QC, and Project Quality Management Process through flexible and customizable service and assignment management modules.
Captures and tracks critical SCM and Project assignment/activity - Inspections, Audits, Expediting, and more!
Integrated, customizable data, process and workflow tracking - integrates all stakeholders
Streamlines processes through reporting and document automation and data validation
Automated and integrated tracking and reporting of critical Supply Chain / Quality metrics
Dashboards and Analytics
The powerful, automated, mobile dashboards and reports provided by ASR PTS highlight trends and patterns in data and provide real-time, improved supply chain visibility.
Interactive drill-down reports and charts
Customizable dashboards and reports in a variety of formats: Web, Excel, PowerPoint, Email
Pareto, Trend Analysis enable easy Root Cause and Defect Analysis
Realtime dashboards update as data is entered